Clean Master Lite - For Low-End Phones
3.1.3
Phone Cleaner – Never Run Out of Storage Space
If your phone keeps on freezing and isn't able to download new apps because of not having enough storage space then you need this phone cleaner. Clean Master Lite – For Low-End Phones is a useful app which can help you clean your phone of junk files that had been slowing it down. It will make sure that your phone never runs out of memory space. You can easily find and delete the obsolete and unused files of old apps with this cleaning app. This will free up space on your phone's internal storage, allowing you to download any file you need or install new games and apps. Besides cleaning the storage space, this app can also boost your phone's speed and prolong its battery life.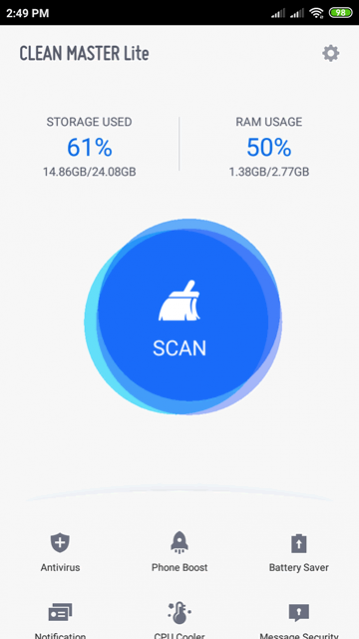 Clean Master Lite has an intuitive user interface which makes it easier to use for one and all. Its simple design and layout ensure that navigating the different features it has to offer isn't that difficult. The home screen of this phone cleaner has all the features on display. It shows you the stats for internal Memory and RAM usage. You can begin scanning the phone for any junk files by tapping on the 'Scan' button in the middle of the screen. Underneath the 'Scan' button, you will find the buttons for features like Antivirus, Phone Boost, Battery Saver, Notification Cleaner, CPU Cooler, and Message Security. Tapping on any of these buttons will take you to a separate screen where you can use that particular feature.
This phone cleaner is specifically designed for low-end phones. It is the reason why it is available in a very small package. However, it can easily free up storage space thanks to its powerful cleaning engine. When you start a scan, this engine immediately starts identifying the files which are useless and are just using up storage space. Once the scan is complete, it asks you for permission to delete these unwanted files permanently from the Internal Memory. You have the option for deciding which files you want to keep, though. Just uncheck the button in front of the files and they won't be deleted by the app. Bear in mind that you will have to provide special permissions to this app for deleting the system trash.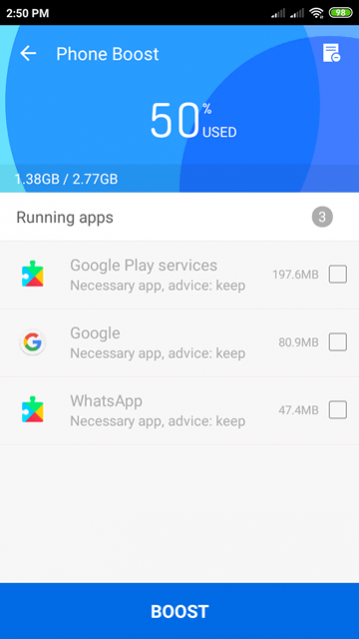 Clean Master Lite has an elite antivirus to offer you as well. This antivirus can quickly scan your device for threats like viruses, malware, and spyware. If you have any Trojans affecting any of your files, this phone cleaner is going to red flag it immediately. After the scan is done, the threats will be dealt with and you would not have to worry about them ever again. Aside from the powerful antivirus, you have a Phone Boost feature available in this app which can speed up your device. It does this by shutting down all the unnecessary programs that had been hogging the phone's memory. Similarly, the Battery Saver feature of this app ends background processes to save battery power.
Features:
Intuitive user interface
Simple design and layout
Scans the device for junk files
Delete junk files with a single click
Frees your phone's storage space
Antivirus to scan for viruses and malware
Closes unnecessary programs to boost speed
Saves battery power by shutting down background processes
Cools down CPU and prolongs its life
Conclusion:
Clean Master Lite is an app which is designed for people who have a phone with limited memory space. It allows them to regularly clean their phone's memory and ensure that there is always space available for installing new apps and downloading important files. It is an excellent phone cleaner and you should give it a try if your phone is slowing down.
---
Add a review
Tell us your experience with
Clean Master Lite - For Low-End Phones
3.1.3
RELATED PROGRAMS
Our Recommendations
---
---
---
---